With its crystal-clear sea, golden beaches, bays, healing thermal resources, amazing underwater riches, sports activities, and famous nightlife, Çeşme is the pride of İzmir in tourism...
Ranking 14th among the top 52 places to visit in the world according to New York Times' list, and just 95 km from the city center, Çeşme is the most popular province of not only İzmir but also the Aegean region.
If you want to experience the holiday of your dreams, you are in the right place.
Beaches in Çeşme
Although it offers different beauties every season of the year, Çeşme is even more beautiful in the summer with its clear sea, world-famous beaches, and bays that fascinate those who see it. You can enjoy the sea at beaches like Altınkum, Diamond, Boyalık, and Çark. Aya Yorgi Bay, on the other hand, welcomes those who want to enjoy the sea in the day time and then have fun at night, until the sunrise.
Places to see in Çeşme
Çeşme means fountain in Turkish. That's why you can come across many historical fountains while visiting the town, which takes its name from the fountains built as a legacy for future generations in the Ottoman tradition. If you are interested in history and archeology, the Ancient city of Erythrai, Çeşme Castle and Museum and Caravanserai dating back to the first Bronze Age are among the main attractions for you.
Water sports in Çeşme
Çeşme is a paradise for those interested in water sports such as surfing, kitesurfing, and diving. It's also one of the first destinations that come to mind when you think of windsurfing in Turkey. With its sea suitable for surfers of all levels, Alaçatı hosts international races as well.
Things you should definitely do in Çeşme
Çeşme is a town that lives both during the day and through the night until the first light of the morning with its colorful life. So, things you can do here are countless. However, if you have limited time, we have listed the most essential things to do for you.
First, keep in mind that Çeşme has one of the largest sources of thermal waters. The waters are known as a natural miracle due to the number of minerals in them. At the same time, it is colorless and odorless. Çeşme provides its guests with the best thermal tourism opportunities.
Second, don't forget to visit Alaçatı. With its deep blue sea, stone houses with bougainvillea hanging from the windows and cobblestone pavements, the town is of tales from the 1800s. If you're visiting Alaçatı in spring, don't forget to check the herb festival, and taste the region's famous herbs.
Finally, keep in mind that you can find all sorts of special flavors of Aegean in Çeşme since it's a very popular destination. We recommend you to devote a meal to seafood every day. In the meantime, don't forget to taste the famous Kumru of Çeşme.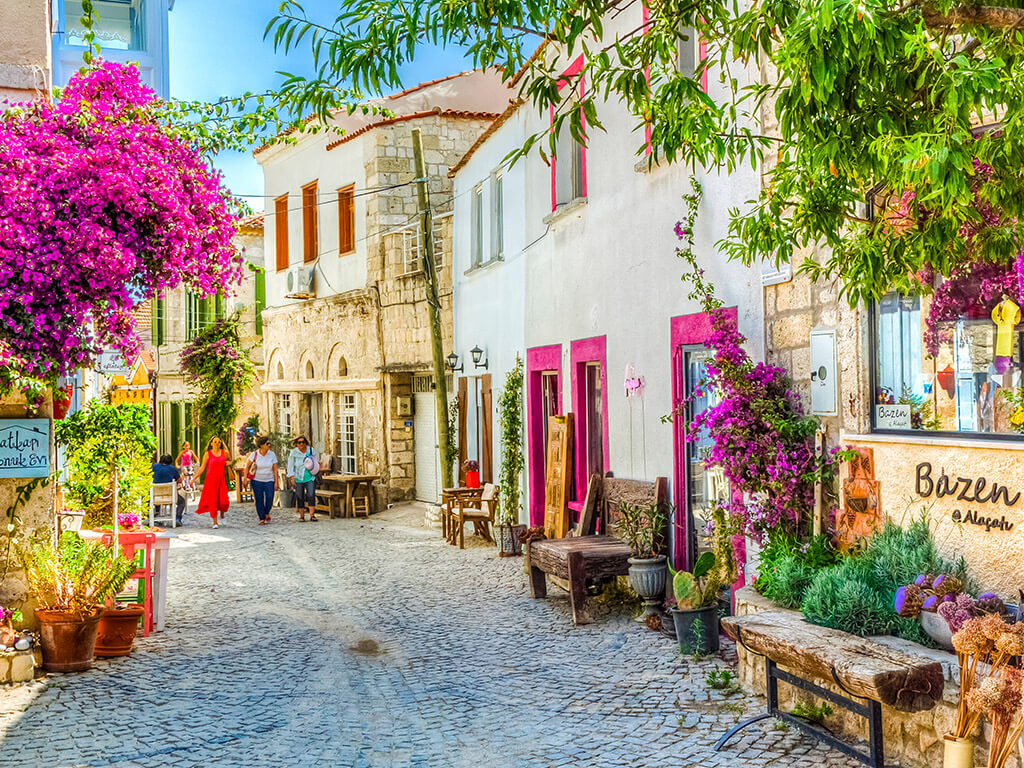 Where to visit
Çeşme is one of the first places that come to mind when it comes to vacation, beaches, clean sea, and historical and natural beauties. You can't say you've seen Çeşme unless you visited Alaçatı and its stone houses adorned with bougainvilleas, historic windmills, and narrow always-windy streets. Alaçatı is also one of the surf capitals of the world. Çeşme Castle, which has been well preserved since the 15th century, is one of the best places to watch the sunset. The castle, which serves as an archeology museum today, also hosts various festivals and concerts. The Caravanserai, which also dates back to the 15th century, is worth seeing as well. Other places to visit in Çeşme include Ilıca, which is famous for its thermal waters, Şifne, which is famous for its healing waters and mud, Ildır, which stands out with its peaceful beaches where the ancient city of Erythrai is also located, Germiyan Village, frequently visited by those who miss the village life, Reisdere, which welcomes you with its rich cuisine and beautiful architectural structure, Ovacık, with its long coastline, Dalyanköy, an old Greek fishing village, and Çiftlikköy, one of the first places that come to mind when you think of eating fish. The most famous beaches in Çeşme to enjoy the sea are Şifne, Küçük Liman, Pırlanta, Paşa Limanı, Ilıca Beach, Çiftlik, Altınkum, Çatal Azmak, Sakızlı Bay, Tekke Beach, and Aya Yorgi.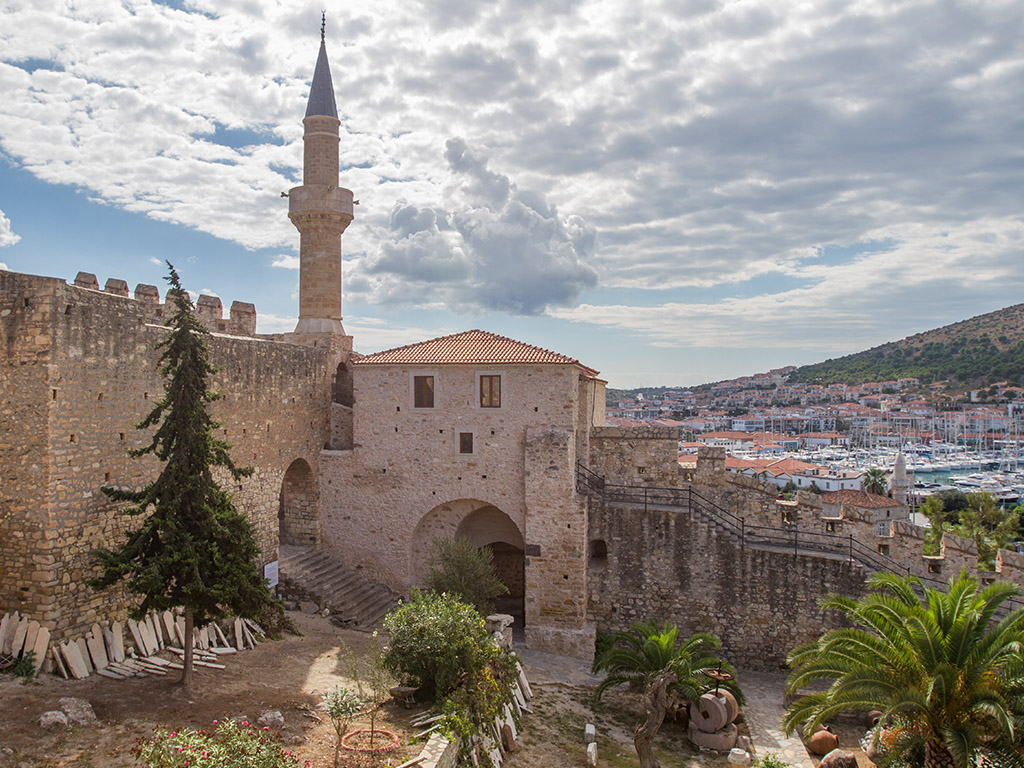 What to do
If you are a fan, you can surf in Alaçatı, Ilıca and Pırlanta beaches during summer. Pırlanta beach is also suitable for kitesurfing. With nearly 10 different points, Çeşme is one of the most important diving destinations in Turkey. You can explore the scuba and snorkeling can do, you can explore the crystal-clear underwater world by scuba diving or snorkeling. With daily boat trips, you can explore beautiful bays where dive and fish. You can heal in the thermal springs in Çeşme and its surrounding regions. If you are into camping, the sites in Paşa Harbor and Büyük Harbor are just for you. You can watch windsurfing races attended by many national and international athletes, see the kite festival, and you can attend delicious wine tastings at the wine festival held in Çeşme Marina every year. The Alaçatı Herb Festival, the Germiyan Festival famous for its bread contest, and the Ildır Culture Festival held in August are among the original events in Çeşme.