Located at the southeast of İzmir, Ödemiş is one of the districts that you will not be able to get enough of. There is the opportunity to experience many different types of tourism from religious tourism to tableland tourism and ecotourism in Ödemiş. The district is home to artifacts from Hittite, Phrygian, Lydian, Persian, Roman and Byzantine eras. Ödemiş is one of the traditional and warm districts of the Aegean with its local handicraft, famous meatballs, and colorful bazaars.
Places to visit in Ödemiş
Birgi, which is one of the first places to be seen in the district, draws attention with its rich culture and natural beauties. Located 9 km from the center, Birgi is known as the cultural and faith tourism capital of the district. In Birgi, which is 5,000 years old, you can see the mausoleums, mosques, and baths, as well as the mansions that managed to survive until this day. Bademli, which is considered the most important touristic spot after Birgi, is another place worth seeing with its unique nature and important structures reflecting the history of the district.
After exploring Birgi and Bademli, you can also visit Konaklı, where you can see historical structures from Byzantine and Ottoman periods; Kayaköy, which is famous for its castle ruins, and Günlüce, which looks like an open-air museum with a history dating back 5 to 6 thousand years.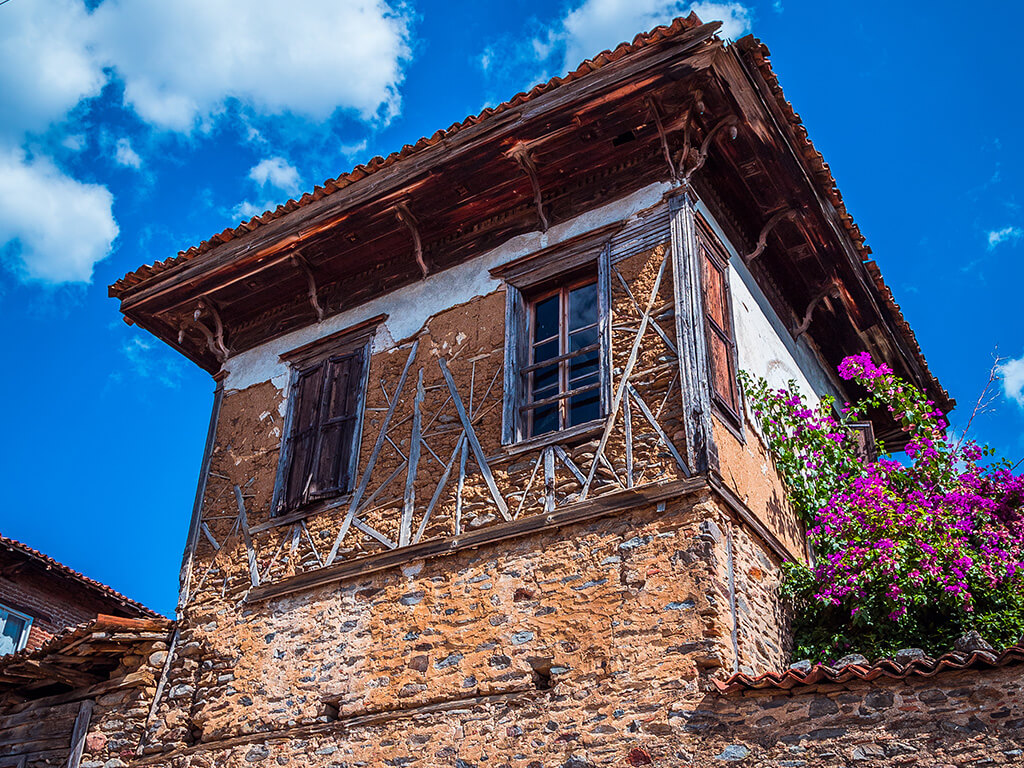 Highlands in Ödemiş
Ödemiş, where many activities such as bicycle tours, angling, hiking, skiing, and paragliding can be done, is one of the places that will fascinate you with its green nature. There are many highlands worth seeing in the area. Some of the plateaus where you can take trekking and safari tours are also ideal for those who want to do paragliding. Among the main plateaus in the district are Hamamköy with its unspoiled nature, and Bozdağ, which is one of the important paragliding and ski centers.
Museums in Ödemiş
The museums in the district include Ödemiş Museum, where you can see archeological and ethnographic artifacts; Ödemiş Municipality Yıldız Country Archive and Museum, where you can find objects and documents that reflect the history, culture, social life, economy and daily life of not only Ödemiş but also the whole Aegean region; and İ. Hakkı Ayvaz City Museum and Bedia Akartürk Art Museum, where you can see the awards famous Turkish Folk Music singer Bedia Akartürk have received so far, her plaques, cassettes, tapes, newspaper reports, photos with her family and friends, dolls, and stage clothes.
What to eat in Ödemiş
Ödemiş has its own unique dishes such as Ödemiş Kebab, keşkek (a dish made of pounded meat and wheat), Köpüoğlu ravioli, butter bread, Heybeli soup, dibile dessert, galgıtma (a form of fried sweet potatoes), höşmerim (a dessert made of unsalted cheese, flour, and sugar), sinkonta (a dish made with olive oil and pumpkin), stuffed bread, spinach soup, spinach and rice, fried pita, stuffed cabbage, and much more. Just like many other Aegean districts, you can also find a lot of healthy herbs to taste in Ödemiş.
Where to visit
Two of the must-see places in the district are Birgi Village, a 5000-year-old fairy tale with its grand trees, historical houses, traditional handicrafts, and the charming Bademler Village. The historical Ödemiş Arasta Bazaar, which is located in the middle of 3 mosques and 17 inns, is another landmark of Ödemiş. The bazaar has gathered different guilds inducting bootmakers, shoemakers, linen drapers, saddlers, and cereal dealers. Other places to visit in the district include the Ödemiş Museum, built as an ethnography museum on the land donated by the antiquity collector Mutahhar Başoğlu, Bedia Akartürk Art Museum, which was devoted to Bedia Akartürk, one of the precious names of Turkish Folk Music, who was born and raised in Ödemiş and started her art life at Ödemiş Music Society, and Ödemiş Municipality Yıldız City Archive, which has a museum-café in its courtyard. If you want to spend a day in nature, you can try the 125th Year Culture Park. There are many hiking trails in the park, which offers a pleasant day with its artificial pond, waterfalls, a tea garden, and children's parks.
What to do
Bozdağ Ski Center, located within the borders of the Bozdağ Village, is a popular destination amongst winter sports enthusiasts. Thanks to its proximity to İzmir, Bozdağ welcomes many visitors from the whole region. Sometimes snow thickness reaches 120 centimeters. So, if you are interested in winter sports, this is the place for you. Hand-made products such as lacework, woolen socks, and fiber which are produced by the local women are sold at Women's Handicrafts Bazaar. Ödemiş Saturday Market, one the other hand, is one of the largest open-air markets in Turkey. You can find all kinds of local products, fruits, and vegetables in this 110-year-old bazaar.