The Karşıyaka coastline is full of bars, cafes, and palm trees, as well as people who bike, walk or have picnics. The streets of Karşıyaka is crowded and lively all day and night. Karşıyaka takes its name after its location right opposite to the center.
Karşıyaka has traces from the past with Levantine houses and historical buildings.
Historical places to see in Karşıyaka
Karşıyaka is famous for its mansions. Panetti Mansion which is a miniature of a palace in Venice; The Van der Zee Mansion; which serves as a cafe today; Latife Hanım Mansion Memorial House, the building where Zübeyde Hanım, the mother of the Great Leader Atatürk, spent her last days and passed away; are amongst the most well-known mansions in the district. Historical Alibey Turkish Bath, which was built at the beginning of the 19th century, is another important historical place to see in Karşıyaka.
If you're interested in history, many museums await you in Karşıyaka. See our museums page to know more about Karşıyaka museums such as The Science Museum, Bostanlı Open Air Archaeological Museum, and Communication Museum. On the other hand, many monuments and statues like The Statue of Atatürk, The Statue of Nazım Hikmet, and The Statue of Human Rights salute you on the streets of Karşıyaka.
Karşıyaka Bazaar and Bostanlı
The wide street that welcomes you as soon as you get off the Konak-Karşıyaka ferry is the famous Karşıyaka Bazaar. Here, shops, cafes, bookstores, jewelers and other shops right next to each other are always ready to welcome visitors. You can also taste various traditional flavors such as "kokoreç" and "döner kebab" here in this bazaar.
Bostanlı, on the other hand, is the busiest and most popular part of Karşıyaka with the fish and meat restaurants serving every day until late hours, cafes and entertainment venues, shops that sell jewelry, clothing, and household goods. The area is easily accessed by ferry, light rail system or minibus-taxis that depart from the Karşıyaka Port.
Where to visit
Karşıyaka Bazaar is one of the most popular social areas in İzmir. You can do shopping, listen to the street musicians and taste the street food in the bazaar. Karşıyaka is also a district of museums and art. You can see Hamza Rüstem Photography House, Zübeyde Hanım Memorial Tomb and Park, Uşakizade Mansion (Latife Hanım Memorial House), the Suat Taşer Theater in Bostanlı, and Karşıyaka Science Museum. The Helen Catholic Church, Mezake Et Arabim Synagogue and the historical Alibey Bath are among the other buildings worth seeing.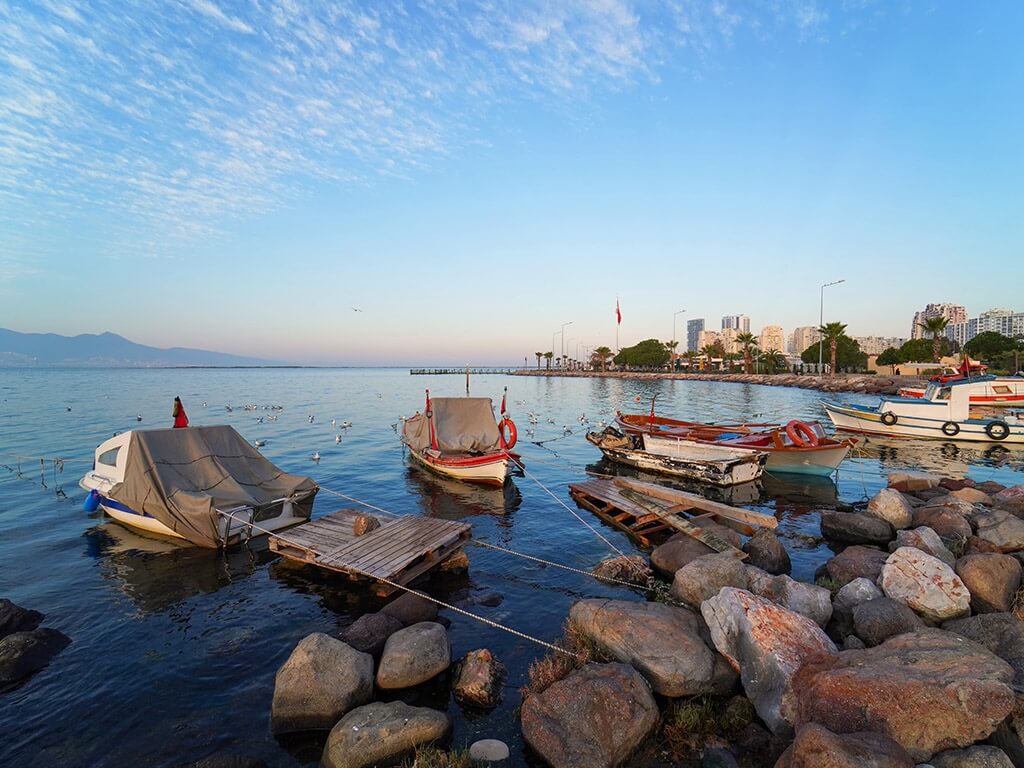 What to do
You can take a long walk along the coast of Bostanlı to enjoy the view and start the day with a pleasant breakfast. If you have a curiosity and a museum card, you can treat yourself with a day full of history and art. If you have experience in sailing, you can visit Karşıyaka Sports Club where there are courses for both children and adults, and you can go sailing. If you want to have a nice day in the animals' world with your children, Tay Park in Mavişehir is perfect for you. There are also many festivals to attend in Karşıyaka, including Karşıyaka Festival in September, International Dance Festival with the participation of many dancers from all around the world, and Karşıyaka Flower Festival organized every year in Bostanlı market place.